Success Rate Of Leukemia Treatment In India Has Risen To 90%
Overview - Leukemia
Leukemia is a type of cancer that starts in bone marrow and impairs the body's ability to make healthy blood cells. Bone marrow is the place where three main types of blood cells made that include:
Red Blood Cells (RBCs) that carry oxygen from lungs to the body's tissues and take carbon dioxide to the lungs

Platelets that help blood to clot

White Blood Cells (WBCs) that help fight infections, viruses and diseases and are an important component of body's immune system.
Generally, leukemia refers to cancers of the WBCs that may affect either of two major types of white blood cells known as Lymphocytes and Granulocytes. These cells i.e. Lymphocytes and Granulocytes circulate through the bloodstream i.e. circulatory and lymph system to help protect the body by fighting off viruses, infections and other invading organisms.
Leukemia that arises from cancerous lymphocytes is called Lymphocytic Leukemia whereas leukemia from cancerous granulocytes is called Myeloid or Myelogenous Leukemia.
When Leukemia begins, White Blood Cells produced by bone marrow, fail to mature properly and abnormal leukemic WBCs continue to accumulate and outnumber Red Blood Cells, Platelets and healthy White Blood Cells.
These immature leukemic cells are not capable of fighting infection and instead interfere with the functioning and production of other blood cells. Leukemia is either acute i.e. occurs suddenly or chronic i.e. develops gradually over time.
The four major types of Leukemia are:
Acute Myelogenous Leukemia (AML)

Acute Lymphocytic Leukemia (ALL)

Chronic Myelogenous Leukemia (CML)

Chronic Lymphocytic Leukemia (CLL)
Other rarer types of leukemia are:
Hairy Cell Leukemia

Myelodysplastic Syndromes

Myeloproliferative Disorders.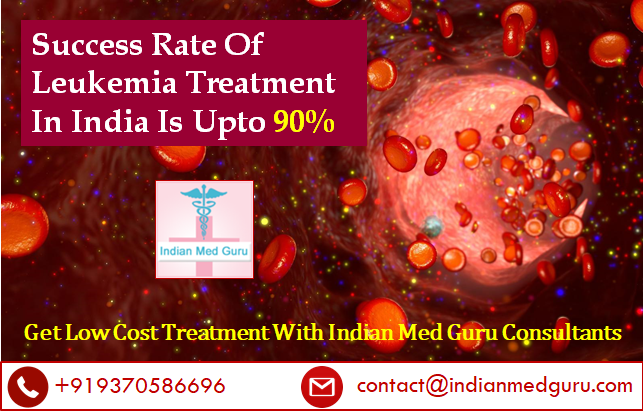 Symptoms of Leukemia
During early stages of leukemia, symptoms are not noticed but appear differently as per type and stage of leukemia.
Common symptoms of leukemia include:
Fatigue or Weakness

Bruising or bleeding easily

Fever often with chills

Night sweats

Shortness of breath

Pain in bones or joints

Headaches

Nausea and Vomiting

Pinhead-size red spots on the skin

Frequent infections in the lungs, urinary tract or gums or around the anus

Seizures

Weight loss

Swollen lymph nodes

Splenomegaly i.e. enlargement of spleen
Treatment Options for Leukemia
Different types of leukemia can cause different problem and hence leukemia treatment depends upon type and stage.
Leukemia treatment involves procedures like:
Chemotherapy

Radiation therapy

Stem cell transplantation i.e. Bone Marrow Transplantation

Biological Therapy

Immune therapy

Interferon therapy

Targeted therapy

Surgery
Best Leukemia Surgeons and hospitals in India
List of best surgeons associated with best hospitals for leukemia treatment in India are:
Dr. Manas Kalra, Apollo Hospital, New Delhi

Dr. Shishir Seth, Apollo Hospital, New Delhi

Dr. Dharma Chowdhary, BLK Hospital, Delhi

Dr. Rahul Bhargava, Fortis Hospital, Gurgaon

Dr. Vikas Dua, Fortis Hospital, Gurgaon

Dr. Hari Goyal, Artemis Hospital, Gurgaon

Dr. Dipanjan Haldar, Wockhardt Hospital, Mumbai

Dr. Shantnu Sen, Kokila Ben Dhirubhai Ambani Hospital, Mumbai

Dr. Sharat Damodar, Narayana Multispecialty Hospital, Bangalore

Dr. Srikamth M, Apollo Hospital, Chennai
Success rate of Leukemia treatment in India
Success rate of leukemia treatment largely depends on type and stage of leukemia. However, by virtue of highly experienced and skilled oncologists and treatment facilities in India, the success rates of treatment for most common acute lymphoblastic leukemia (ALL) is over 90% in India.
Why international patients choose India for cancer treatment?
International patients choose India for cancer treatment as they are treated:
By most qualified and experienced oncologists

In World-class hospitals

Using most modern treatment procedures
In addition, International patients get:
Best nursing care

Priority appointment and treatment without any wait list

Ease of Visa

High standard yet affordable hotel accommodation
Above all the leukemia treatment cost in India is extremely affordable that is just a fraction of what they would pay in Western or developed countries for the same procedure.
Contact Indian Med Guru Consultants to know affordable packages in India. Call +919370586696 or email at contact@indianmedguru.com.
Click here to know top leukemia surgeons in India : https://www.indianmedguru.com/blog/top-10-leukemia-surgeons-in-india/
To be informed of the latest articles, subscribe: